I really love the ages between 6 months and 1 year and I was wondering how I could take more photos of those sweet little babes. I thought about cake smash photos which I've never really offered but targeted that age perfectly.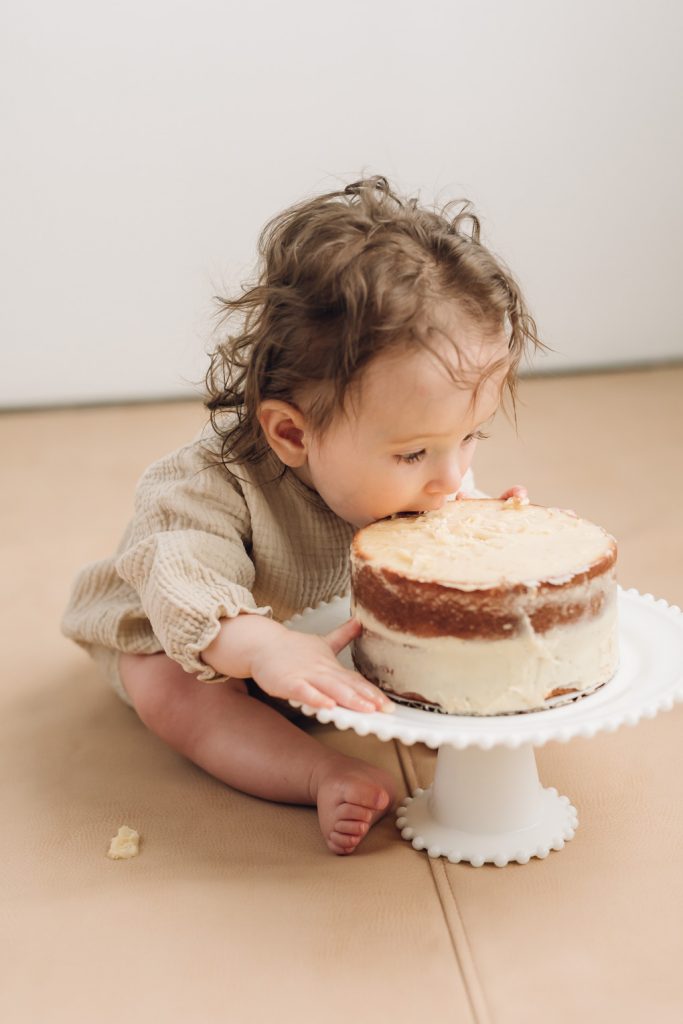 I never offered cake smash photos in the past because I didn't really love the types of sessions that were being offered. It was only when I realized I could offer cake smash photos the way I wanted them done and that I really started to get excited about it.
My cake smash photos are with a simple, Naked Funfetti Cake that I include in every session. I never really loved over the top, deeply dyed cakes and wanted something simple and beautiful. Plus, I know what a pain in the bum it is to try and arrange a cake, bring in baby AND not have the cake smash to pieces. I am for simplicity and ease!
Cakes are from the peanut and nut free bakery Sundaiz which is right in the building.
Next, I offer beautiful, neutral and modern pieces from designers so your babe can look their best. Amongst other places, I shop at local boutiques like Little Minimalist and When We Wear Young.
And lastly, and most important to me is the studio. I do not offer backdrops or take backdrop requests. What I use is the studio as it is with the wooden floors, neutral coloured mats, the beautiful furniture, walls and plants. I would want something simple like this for my own kids and I hope that there are also parents out there looking for the same.
Sessions start off with family photos if desired, followed by photos of your little babe. Then we bring out the cake. Some are timid and others dig right in!
Cake Smash Photos
In the studio
No backdrops or props
Funfetti 4″ Naked Cake included (can also be without funfetti)
Wardrobe included
Family photos can be taken at the beginning of the session
45 minutes – 1 hour
Does this sound like something you may also love to capture your child's special birthday? Contact me for details!